Wedding, Family, Vacations, House, Work, Published book, Ministry
For a 2017 End-of-Year Update on our family and changes to this site, see What's New?.
Featured items include: Trips to Grenada (Carribean) and California, AWS Certifications, and international computer programming contests.

Multimedia Video Page

You may play a two minute video segment of
The Morning Show with Ed and Janis Russo
(aired on March 17, 2002)
to view and hear how we met.

Just visit our multimedia video page

.

Our wedding in June of 2000 was beautiful. We have a whole web page dedicated to this joyous event and to the honeymoon!

---

Doug and Marsha Woolley are living proof that opposites do attract. Doug was born in North Tarrytown, New York while Marsha was born in Ghana, West Africa to missionary parents. Doug spent most of his life studying and excelling in academics while Marsha spent most of that time in the principals office for talking. She now speaks seven languages and is a popular speaker at women's conventions throughout the USA and other countries. Doug's main expertise is in mathematics and computers while Marsha is a vocalist.

---

Meet the Family


Click a small picture to
see a larger picture


Douglas Woolley has two brothers: Craig and Brad. His mother Sigrid has been a widow (of Stanley) since 1990. On his mother's side, Doug has an Aunt by the name of Hilde and a cousin by the name of Rick, who just celebrated his marriage on June 16, 2002 to Joane. On his father's side, Doug has a half-brother named Rich and a half-sister named Linda. Doug has three cousins under Aunt Dotty: Donna, Freddy, and Steven. Doug's Uncle Cliff Woolley lived in New Hampshire. Irma & Kurt are distant relatives of Doug's.

Marsha Woolley has a son, Isaac. Her mother Margaret has been a widow since 1996 to the late Dr. Bill Lovick. Marsha has one younger brother, David. The Woolley household shares two poodles, Peanut and now Napoleon.

The most recent human addition to the Woolley household is Dimitri.
Please view
our Family page
that links each member, including
Dimitri

Our Favorite Family Activities
We enjoy traveling, especially to foreign destinations. Our vacations provide an opportunity for us to be together and (often) spend good times with other family members. Our adventures together can be seen via pictures, often in a delightful slideshow format, on our vacations page.
During June of 2000, we traveled to Disney World and then to Hawaii for our Honeymoon. It was a wonderful trip as we visited Oahu, the Big Island, and Maui. We had so much fun that we returned to Hawaii in June of 2001 accompanied by some of our family.
On our vacation of June of 2001, we visited Oahu and the Big Island with the family. Afterwards, the family members returned to the mainland while we continued on to Hong Kong and Korea. Hawaii is Doug's favorite destination on earth; One of Doug's best friends lives in Hong Kong - David Ho; and Korea has the largest church in the world in Seoul; You may view our vacation itinerary page for further details of our marvelous trip.
In December of 2002, we once again returned to the relaxing islands of Hawaii. This time the itinerary included a 2-day stopover in San Francisco and a visit to the beautiful island of Kauai in addition to repeating our footsteps in Oahu and the Big Island. This trip was especially nice since all four of us flew first class as a result of redeeming Doug's many airline miles, and we were upgraded to the best available rooms at the Hilton Hotels due to Doug's "Diamond member" status.
In October of 2005, we once again returned to the wonderful islands of Hawaii, "parking" at Maui and taking a one-day excursion to Lanai as well. Be sure to check out our slide show presentation of our trip.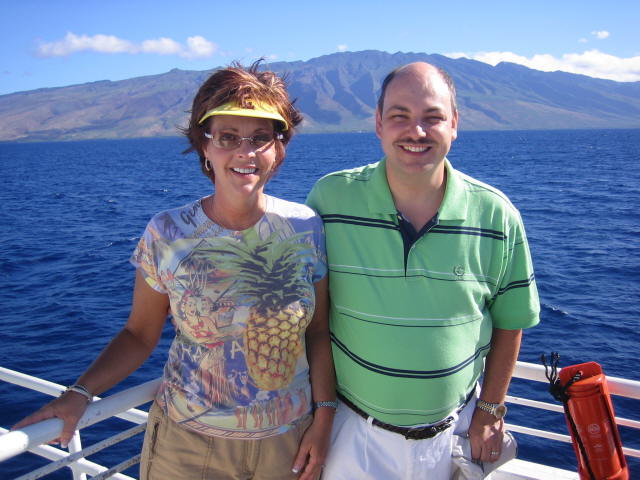 In May/June of 2007, we once again visited Hawaii and brought little Dimitri along with Margaret.
We look forward to celebrating 15 years of marriage in Hawaii in May/June of 2015.

Our extended families usually enjoy meeting together at Disney World It is not always easy to get everyone together, but Disney World seems to be a good common place to meet.
We enjoy dining at fine restaurants and celebrating special occasions together. Some of our favorite places include Bern's Steakhouse (Tampa), Victoria & Albert's (Kissimmee), Boizao - Brazilian Steakhouse (Tampa), Charley's Steakhouse (Tampa), Caffe Paradiso (Tampa), Melting Pot (Tampa), Maggiano's Little Italy (Tampa), CK's Restaurant (Tampa), Columbia Restaurant (St. Petersburg, Tampa). Zagat Survey is an excellent resource for choosing just the right spot! Regardless of where we eat, we enjoy socializing with one another during meal-time.
Ignited by our faith in the Lord Jesus Christ, we enjoy attending church together at Victorious Life Church, pastored by Ed Russo in Wesley Chapel, Florida. This church has much to offer people of all ages: children, youth, adults, and senior adults. We also enjoy attending a local church in our neighborhood: Limitless Church, pastored by Matt Blair. We enjoy using our teaching and speaking gifts to minister to others and see lives changed.

About Doug
Doug was born in New York and had a wonderful childhood living in Croton-on-Hudson. After his father took early retirement when Doug was 10, his family moved to southern Florida where Doug excelled in sports and academics. In middle school he was named as the "Most Outstanding Male Athlete of the Year." While in high school, Doug was ranked number one in Florida in both mathematics and computer programming. It was during these years that Doug entered into a personal relationship with Jesus and started to grow spiritually. Since then, he has grown exponentially in the Lord and in the Word. You may read more about Doug
About Marsha
Marsha has a unique background and early childhood! Born in Tamale, Ghana, to missionary parents, Marsha has spent most of her life in Africa. Teaming up with her father, they ministered to thousands of needy people in Africa. She has been especially anointed to minister to real people a real gospel. You may read more about Marsha.

Our New House
On May 6, 2003, we closed on our new house in Hawthorne Estates in Tampa, Florida. The home is a blessing from God to all of us. It was interesting to see the house being constructed from October of 2002 to June of 2003. You may view our new house page which includes our journey from our previous homes to the new one along with many pictures of the house being constructed.

Our Work and Ministries
Doug has a wonderful life working for Verizon Data Services as a Systems Engineer, while Marsha works as an associate mananger for Brighton Collectibles and occasionally speaks to groups of people. For years, Doug had conducted a weekly inter-denominational Bible Study with interested individuals at his work place.
Having earned his Engineering degree in Computer Science at the University of South Florida in 1989, Doug furthered his education by pursuing a Theology degree (in Biblical Studies) through North Central University's distance education program. He then graduated with a Masters Degree in Theology at SAGU. Please visit Doug's Theology Corner for a list of his theological works and essays or you may listen to some of his sermons at Doug's Audio Sermons Library page.

Doug's involvement with the Full Gospel Business Men's Fellowship International, or FGBMFI, started in 1991 and currently he serves as an International Director and as the USA SE Regional Director and previously as the webmaster for their international site. Serving Florida and the SE USA, Doug created the Florida FGBMFI website. Doug enjoys sharing his testimony at FGBMFI chapters throughout the U.S. and other countries.
Marsha has a dedicated site for her ministry that is filled with pictures, stories, and sermons from her meetings in Georgia, Alabama, North Carolina, Florida, and foreign countries at:

God and Marsha's Marvelous Ministry

"Douglas Woolley provides us with a very useful introduction to the mountain of material he has been sifting through."

Alistair Mackenzie: Director of Faith at Work (New Zealand) and author of Where's God on Monday?




"This book is a must read not only for those in the workplace, but should be read by those preparing to enter the workforce."

Ed Russo: Senior Pastor of Victorious Life Church in Wesley Chapel, Florida




"The Value of Work . . . will help fill the current void of solid materials on a theology of work."

Os Hillman: Marketplace Leaders




"Readers will be entriched with a deeper understanding of how time spent in meaningful work counts for eternity and glorifies God."

Dr. Royce Shelton: Professor Emeritus, Southeastern University




More info on the book or to order the book
(Published in December 2008)

Our International Adoption
We are excited about adopting Dimitri -- an active 6 year-old healthy boy. Our pursuit started with an international adoption in Ukraine, where we would have the opportunity to select the children upon arrival in Kiev at the National Adoption Center. Due to delays and problematic situations, and due to finding two adorable children that could be unofficially pre-selected in Kazakhstan, we started to pursue an international adoption in Kazakhstan, where Vita and Russ are located. As of August, 2005, they were 7 1/2 and 6 years old, respectively. Around Christmas time of 2005, their mother visited them and thus made them ineligible for adoption. Perhaps this is good for them, but we were still disappointed, but we then hoped to find two wonderful young children (boy & girl) from Kazakhstan. After bonding with two babies/toddlers in Kazakhstan in May of 2006, the law changed and we were told we could only adopt 1 child. We then remembered a boy we met at the orphanage for children between 4 and 7 years of age. We visited him and bonded with him for the next two weeks. The judge ruled in our favor for us to be his parents on June 9, 2006, and the appeal process ended on June 26, 2006. Doug traveled back to Kazakhstan to pick him up during on July 12th and returned to Tampa, Florida with Dimitri Joseph Woolley on July 19th. The entire extended family is very pleased with our new addition. For more details on our adoption journey, see our adoption in Kazakhstan page or our adoption in Kazakhstan Emails page. Also, please visit Dimitri's page, full of pictures in America.

Page last updated: February 21, 2017
---