Basic Facts


My name is Sigrid Woolley. I turned 70 years old on January 13, 2001 (picture on left), and I have been a widow for a decade. I have blondish hair and blue eyes and I am 5 foot two. I live in a wonderful apartment complex in Temple Terrace. I love all three of my sons: Doug (the oldest), Craig, and Brad (the youngest).




Mother's Day in Fort Lauderdale, 2001,

but I cost more than $15.95 !!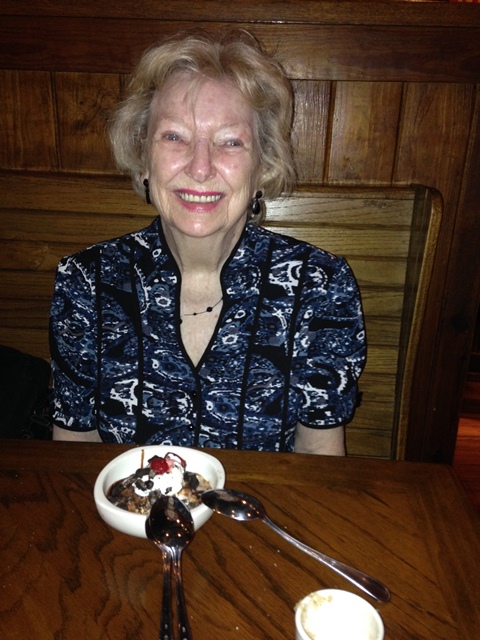 Celebrating my 84th birthday on January 13, 2015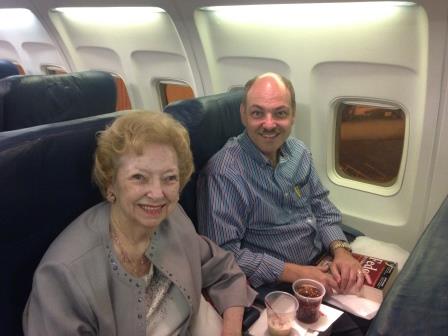 My oldest son, Doug, took me on a First Class trip from Tampa, FL to Dayton, Ohio to visit my 2nd son, Craig, who recently moved there for a promotion.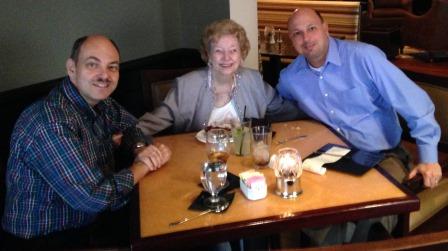 Mothers Day weekend with Doug and Craig, May, 2015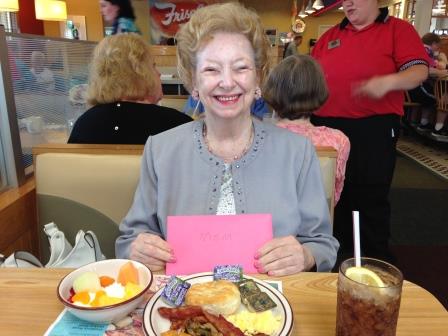 A special Mother's Day, 2015, in the vicinity of Dayton, Ohio

My Hobbies & Interests
I like to sleep and watch Wheel-of-Fortune and "The Price is Right" and "Who Wants to be a Millionaire?" (I do!). I have enjoyed bowling for many years of my life.
I enjoy visiting Walt Disney World especially with my children!

The Family Pets

My son Craig brought home a cat which shortly thereafter got pregnant. We exchanged her for a a dog, which my three boys named Sherman after the kids show "Peabody and Sherman." However, Sherman was the boy and Peabody was the dog in the actual show. Sherman was a lovable dog who grew up with the three boys. Craig went to college and brought home a 3-month old dog by the name of Bandit. Bandit and Sherman became good friends. Unfortunately at the age of 16, Sherman fell into the pool and downed. My son Brad and his father that that it would be best to get a replacement for Sherman, but unfortunately it was a mixed pit-bull. He grew so big that he could almost jump over the fence, and with all the small children around, we had to get rid if this 6-month old dog. After we got rid of the god, we found out that Bandit was pregnant. I kept one of the dogs, Fluffy. She, unfortunately, attacked her mother when she grew up so we had to get rid of her. My youngest son Brad brought home a cat by the name of Shadow. Unfortunately, Bandy got sick and died, and now I have Shadow who keeps me company!
My sweetie-pie Bandy

This is Peanut, the Poodle.
He belongs to my son Doug
and his family.
This is Chauncey, the Rat Terrier. He belonged to my son Doug and his family.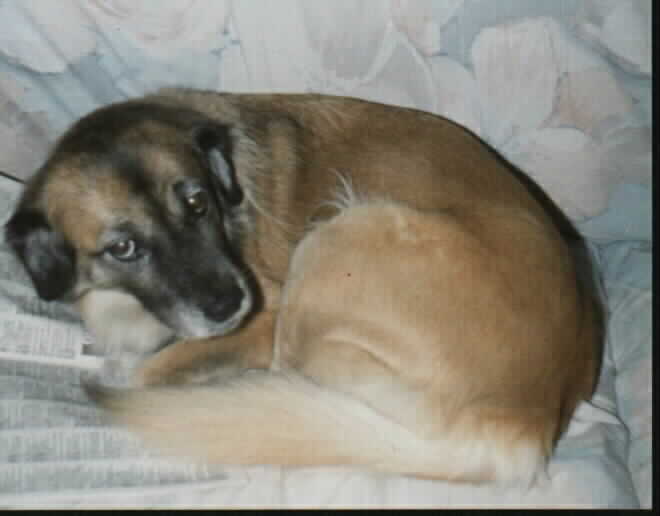 Bandy is adorable!




Background Information
Born: January 13, 1931
Birth Place: Brooklyn, New York
Parents: Ernest Bayer (8/13/1880 - 3/3/1955) & Paula (Geyer) Bayer (4/14/1898 - 5/27/1973)
[came to Ellis Island from Schney, Germany in 1922 (Erhard Wilhelm Bayer) and 1923 (Paula Geyer)]
Hometown: Glendale, New York (in Queens)
Sibling: Brother - Charles Bayer
Married: to Stanley Woolley on June 27, 1965
Children: Doug, Craig, Brad
Employment: Retired from Banking

Grandparents on Mother's side: Theodore Geyer & Hedwig (Kleinteich) Geyer
Aunts on Mother's side: Rosa Geyer (1887 - 1931) and Anna (Geyer) Morgenroth
Uncles on Mother's side: Edgar and Hans Geyer
Cousins on Mother's side: Ingrid (Geyer) Horn, Hilmar Geyer, Beate Wiederholt, Edith Geyer, Lothar, Hans and Edgar Morgenroth

Grandparents on Father's side: Pankratz Bayer & Barbara (Welsh) Bayer
Aunts on Father's side: Wilhelmina and Dora Bayer, Anna (Bayer) Lipfert
Uncles on Father's side: Fritz and Heinrich Bayer
Cousins on Father's side: John, Fritz, and Dora Bayer, Ernest and William and Elsie Lipfert
First to Immigrate: The first persons to come to the United States in my family were Ernest & Paula Bayer. Paula grew up in Siegmundsburg, Germany, a village in the Thuringer Forest. She worked in a butcher shop in Coburg. Ernest grew up in Schney and studied art in France. Ernest and Paula arrived at Ellis Island, New York in August of 1923 coming from the small town of Schney in the province of Bavaria in Germany. They came by steamship liner in search of a better life. The journey took about two weeks. Upon arriving, they could speak German and my father could also speak French and they had to then learn English. Immigrating the USA was one of the best things that ever happened to them. My mother lived to be 74 years of age.
Best thing that ever happened to me: Besides marrying Stanley and having my three boys, being a contestant on the TV game show "The Price is Right" 1961.


My Family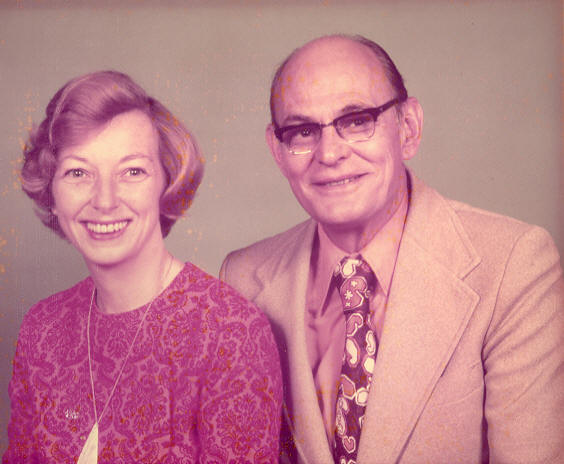 Sigrid and Dick Woolley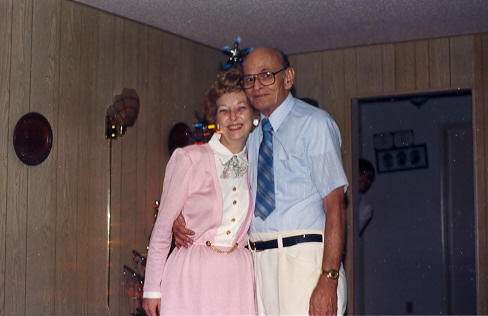 Christmas 1987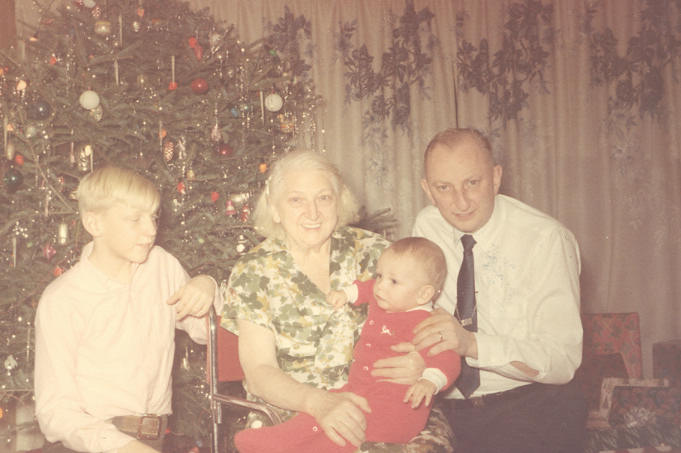 My nephew Rick, mother Paula, son Doug, brother Charles
| | |
| --- | --- |
| | |
| Sigrid, Dick, and my first born Doug | My next two children (Craig & Brad) with the boys' favorite babysitter (Mary Ann) |