About Me

Hi! My given name is William Isaac, but there are so many William's in the world that my family has always called me Isaac--though I am very proud of the name William because I was named after my grandfather who was a famous missionary to Africa. When I was born I weighed 2 pounds and 13 ounces. The doctors said I would never walk or talk. My parents can tell you they were wrong, especially about the talking part!

I am 17 years old, and I am in the 11th grade and my favorite sport is baseball. I am a New York Yankee fan, and I am glad that they won the World Series in 2000. They almost won in 2001, and I thought they would surely win the World Series in 2002. Unfortunately, they didn't pull it off in 2003, nor in 2004. However, they've won more than any other team in history!

My favorite player is Derek Jeter.
Please visit my
Baseball Web Page,
which includes pictures of
my first real baseball game
and our championship game.

My favorite football team is the Tampa Bay Buccaneers. My favorite player on this team is Chris Simms! I even have one of his jerseys.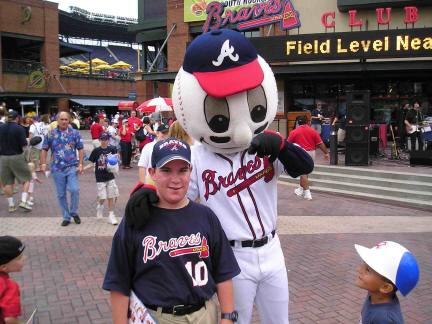 Isaac at Turner Field in Atlanta, Georgia for an Atlanta Braves game in 2004

My Latest Favorite Sport - Golf
I completed my first round of golf on April 14, 2004 when I played at The Lutz Executive Golf Center. Each of the 9 holes is a short par 3. Doug and I had a great time!

On one of the holes, I hit the golf ball 95 yards with my 5 wood. The ball went straight past the green, just a bit.

To see pictures and a complete description of this special day, please see my golf page!

My overall score was a 65. To see our score card, click the small image below to see a hole-by-hole analysis:


My Pet Dogs - Phoenix, Chauncey & now Peanut
| | | |
| --- | --- | --- |
| | | Phoenix is quite a cool dog. When we first got him, he was blind. Before he had surgery on his eyes, he fell into the pool and we had to go in there and get him out. Because of the surgeries, he looks like he does. He is a friendly dog and likes to play with his Chihuahua friend, Chico. Click on Phoenix's picture to see a really big picture of him. |
| | | My previous dog's name is Chauncey. He is a rat terrier, but mom says he's a brat terrier especially when he chews the rugs, but at least we don't need a paper shredder.?! Chauncey was 1 and 1/2 years old when we got him in December, 2000. He is black and white and weighed about 18 pounds. He does not speak English, nor does he understand English, but I have been told by the previous owners that he understands Spanish. Too bad no one here speaks Spanish! |
| | | Peanut: My new dog's name is Peanut. He is an off-white poodle and is much more obedient than Chauncey, who was replaced at the end of February, 2001. Peanut is lovable! He is always happy to greet people! We often call him "Mr. Peanut." After several years, I don't consider Peanut a new dog anymore, but he is loved by all who see him. |
| | | |

My Travel Experiences


I made it to the top of Mount Avila in Caracas, Venezuela! Family and friends helped me.

My first trip out of the country was to Portugal and to France in June of 1999. I liked Lisbon, Portugal very much and I liked Paris, France very much also. I really liked EuroDisney. It is similar to Disney World in Florida, but it is much colder there even in June and the height requirement is higher for riding Space Mountain. But boy, could those French people make great hotdogs!




In August of 1999, I traveled to Morocco in the continent of Africa. My mother was born in Africa to missionary parents, so it was exciting to visit her continent!




In April of 2000, I visited South America for the first time in Caracas, Venezuela. Then in August of 2000, I spent about 4 months living in Caracas while my mom home-schooled me at our 5-star Gran Melia Caracas Apartments. I enjoyed climbing Mount Avila which sometimes took 6 hours to get to a top spot. There is an old hotel on the top called the Humboldt. My family and friends drove up the mountain and we climbed the rest of the way to the hotel. It was a trill to make it to the top of the mountain after admiring it from the ground for several weeks.
It's great to be back in the United States. I may be just a little kid, but I am smart enough to know that even after visiting all those beautiful places there is no place like home, especially when home is the USA!!!!

How I like Phantom of the Opera




The Phantom of the Opera is a great show. I have seen it four times now. I saw it three times in Alabama with my real dad who works for the Birmingham Broadway Series. My dad took me back stage and I got the Phantom's autograph. I think Ted Keegan is the best! He wore a similar mask to the one that I am wearing in this picture. I have enjoyed seeing it every time, and I know all the music by heart. I went with my mom (Marsha) and my step-father (Doug) to see the show at the Tampa Bay Performing Arts Center. My favorite part is when the chandelier falls. My favorite song is Music of the Night.




I am mysteriously shown in the picture on the left in my Phantom mask. Doug and Chauncey are posing with me for the picture.

Audio controls for Phantom of the Opera instrumental music

Since the time I was born premature, I have survived about 34 surgeries, the majority of which have been brain surgeries related to my shunt. The Lord has sustained me. Many, many prayers have been offered in my behalf, especially when I have encountered crisis situations. I'm one of the only kids who can say that my head is stapled and glued back together on a regular basis.

Recently, I had multiple brain surgeries between December 11, 2003 and January 3, 2004 at All Children's Hospital in St. Petersburg, Florida. Family members were there for me before and after my surgery. You can see further details and pictures of my surgery recovery.
Note: A shunt is a tube that drains fluid from the brain. I now have a 2nd shunt. I had a grade 3-4 hemorrhage at 12 hours old and had an existing condition of hydrocephalus since shortly after birth.

My Favorite Hockey Team

The Tampa-Bay Lightning is my favorite Hockey team. I have seen several of their games at home. Pictured below is the game against Colorado that Doug took me to see on January 19, 2004. It was the first game that I saw after having two months of surgeries. What a nice treat!
| | |
| --- | --- |
| | The Lightning played Colorado, and it was tied 4 to 4 going into overtime. In the end, I thought that the ref was going to penalize Colorado, but instead he penalized the Lightning. As a result, it was a Colorado hockey player against the goalie and Colorado scored the final goal. Oh well... |
But... They did win the Stanley Cup in 2004 and I was so excited!

My Disney World Adventures
Magic Kingdom (Dec. 1999):

I like Disney World in Florida so much!

My favorite ride is Space Mountain. The ride goes really fast and it's in the dark! I also like the race cars. Doug and I had fun. We visited the beautiful Grand Floridian Hotel on the Disney property during the Christmas season of 1999. The hotel even had a ginger bread house.
MGM (Dec. 2004):
My first time on Tower of Terror!


Here I am in front of Tower of Terror with family members in the background: Miss Sigrid, Brad, Marsha, Margaret, (Doug took the picture)

I was chicken of this ride for many years, but family members such as Brad and Doug kept encouraging me (and taunting me) to experience this ride that they consider to be among the best in Disney World. It was really fun and I can't wait to go back there.

I once found a site where you can take a virtual tour of the Tower of Terror. I loved the sounds, as it brought back good memories.


Here I was after my first ride! We were all victorious.

When I was 5, I sometimes preached a little. Visit Isaac's Preaching page to hear for yourself.

Return to Doug & Marsha's Home Page