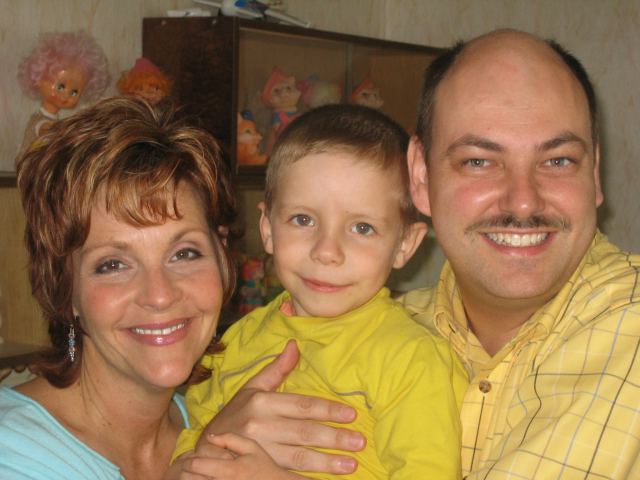 The Latest News on our Adoption (July 21, 2006)
Kazakhstan Adoption is complete! Dimitri is home as planned
Dear Friends,

Everything went as planned (from the schedule given in our previous e-mail), and our adoption of 6-year old Dimitri Joseph Woolley is complete. He arrived home on Wednesday evening, July 19th. The household members greeted Dimitri and I at the Tampa Airport along with my mother, Sigrid. Everyone in our family and extended family is very pleased with Dimitri. He is excited about life and about being in our family. He charms almost everyone with his friendly personality and his enthusiastic exploration of his new world.

Marsha did a great job arranging Dimitri's room while I was gone for one week. We missed each other very much but kept in touch via phone. What an experience it was for me to be with a new child (who only speaks Russian), 24-hours a day, for 6 days! While it was good, it is very good to be at home now with the support of others!

I thank you for your prayers. I thank God for his help and guidance. I thank the authors of the two books I read on parenting and setting boundaries for kids, since it greatly prepared me (and consoled me) for some unexpected things. I thank the orphanage workers (in the city of Rudny) for their excellent care of Dimitri over the past 2 years, after the death of his mother (and father is unknown - and no family in Kazakhstan). I also thank the Adoption Ark staff and their in-country workers for their help in all the logistics of the adoption.

I have attached seven pictures of our trip home (from the moment of arriving in Kazakhstan to the moment of arriving in Tampa, Florida). I will be updating the web site with more information in the days to come at www.DougandMarsha.com.

Thanks,
Doug (& Marsha) Woolley
View all E-mails sent to our Friends during our adoption journey (documents our story)

NATURALIZATION: Under the Child Citizenship Act of 2000, which became effective on February 27, 2001, orphans adopted by U.S. citizens automatically become U.S. citizens themselves when all of the following requirements have been met:
at least one parent is a U.S. citizen;
the child is under 18 years of age;
there is a full and final adoption of the child; and,
the child is admitted to the United States as an immigrant.
A foreign-born orphan who enters the United States on an Immediate Relative (IR) -3 visa automatically becomes a U.S. citizen upon admission.

After years of marriage without a child of our own, we have decided to adopt a child or two to be a part of our family. Deciding between a domestic adoption and an international adoption was not easy at first.
In a domestic adoption, you are matched with a birth mother and are with her through the whole process, and she can change her mind at any point and not proceed with the adoption (about 20% do change their mind from what I've heard). There is no definite time when you will be a parent since you are waiting for a birth mother to choose you and that could take time (especially if you are an older couple and have a child or two in your home already; many birth mothers look for couples in their 20's with no children). On the plus side, you could get an infant. To obtain a child two to four years of age is harder, unless it is a "special needs" child. There is also a foster-care to adoption program, but it could be heart breaking if you become attached to the child and he/she becomes ineligible for adoption. Also, most domestic programs are "open adoptions" to some degree, which can be an uncomfortable situation. There are custody issues in domestic adoptions that don't exist with international adoptions.

In an international adoption, there is no waiting to be chosen by a birth mother, nor any involvement with a birth mother. There is a requirement to travel to the country of the child. Newborn infants are not available, and younger children are harder to find. Because of life in an orphanage, children are often underdeveloped or unhealthy in some respects. According to Bureau of Consular Affairs, "With the reduction in children available for adoption in the United States, more and more U.S. citizens have adopted children from other countries."
Considering our international experiences and our desire to be loving parents without the risk of someone changing their mind about giving a child up for adoption, we decided to pursue an international adoption. Next, we needed to decide on a country. We would prefer to have a child that looks somewhat like us and blend in with our family and not stand out as "adopted" (also, less questions are asked by others). With that in mind, Ukraine and Russia were possibilities, where most of the children are Caucasian.
Although we were led to pursue an adoption in Ukraine from October 2004 through August 2005, it seemed that the adoption process became much less efficient and there have been far fewer healthy children from which to select (based on the group newsletters that are distributed daily from Ukrainian Angels, Inc.). Many more couples were coming home from Ukraine without having selected a child they could live with. Additionally, we received a letter from the National Adoption Center (NAC) in July 2005 stating that an invitation letter will be sent to us in December or January for an appointment in 2006 since all appointments in 2005 are taken. Disappointing. You may view our Adoption in Ukraine page for details.
Additionally, it seems that the NAC is experiencing many organizational changes. Also, just recently, the president of Ukraine announced that there would be organizational changes in his government to combat existing corruption, with several top-level persons being fired or resigning. Due to the delay of our appointment, our dossier documents will be expiring and need to be redone prior to traveling to Ukraine. Thus, since the documents need to be redone anyway, it seems that now would be a good time to simply switch to a different country that would require us to update our documents as well. Previously, independent adoption in Ukraine was ideal as it saved much money. However, since finding out that our companies and the IRS will cover $44,000 in expenses for 2 children, money is not as big an issue. Thus we are willing to work with a reputable adoption agency that works in another Eastern European area. At this point, we feel that by going through our adoption agency and changing to Kazakhstan, we have a much better chance of adopting healthy children and having a pleasant experience.
In the latter part of August 2005, Marsha was directed by a coworker to checkout an adoption web site called www.precious.org. From there she and I found two adorable children that could be unofficially pre-selected from Kazakhstan via Adoption Ark, Inc. These two children are siblings. As of August 2005, Russ was 6 and his sister Vita was 7 1/2. They are described as healthy and intelligent. After thought and prayer, we believed that God was now guiding us in this direction and that these two children should be part of our family.
After visualizing our two children and praying for them, we were disappointed to hear in January that they are no longer adoptable because their mother "visited them," thus they were no longer considered "abandoned." (We've since heard that she has reclaimed them and taken them home--most likely a good thing for them!) We then planned to go to a region that had a good orphanage of really young children where we could select on the premises a boy and a girl, though not necessary biological siblings. God often guides step-by-step, allowing circumstances to alter our paths in accordance with his ultimate plan. So, we trusted that God will guide us to adopt the children that He wants to be a part of our family!
We arrived in Kostanay, Kazakhstan on May 9, 2006. After having 2 great weeks with 2 babies (boy & girl), we were told of a new law that had just been passed down. This law says that only 1 child may be adopted. Our Social Worker in Kazakhstan tried to appeal this to allow us to return home with both children since we had ALREADY BONDED with both children and one of the children needed medical attention, but the authorities would not make an exception. We were heart-broken as we had to choose one child to leave behind. You may read more about our journey from our e-mails, but to make a long story short, we then decided to revisit a little boy that we had briefly met in another orphanage the first day we arrived. He is a healthy 6-year old boy that is intelligent, athletic, and socially beyond his age.
After 2 more weeks of bonding (this time with Dimitri) and a favorable court hearing, the judge ruled in favor of us being Dimitri's parents! We appreciated all the support of our friends during this journey! Although the change of the law in Kazakhstan took us by surprise, it did not take God by surprise. We believe that God used it to direct us on the path He wanted us to take.
In the beginning of July, we will return to Kazakhstan to pick up Dimitri and come back home to Tampa!
Time Line for Adoption & Expenses
Date
Description
Cost
Nov. 10, 2004 - July 22, 2005
Pursued an adoption in Ukraine, but changes in country caused delays and problematic situations. Some documents could be used for another adoption.
$5229
August 26, 2005
Found pictures of Vita and Russ and inquired further with Linda of Adoption Ark, Inc. Children are healthy and can be pre-selected.
Free
August 29, 2005
Began Kazakhstan Adoption process with Adoption Ark, Inc. Signed agreement form and mailed check via Fed Ex
$#***
$ 18
August 29, 2005
Began Home Study Update process, signed form and mailed check to Lori, social worker and president of Adoption Support Services of Florida; Fed Ex items to Lori
$ 500
$ 12
August 30, 2005
Background check by Florida Dept. of Law Enforcement (3x$23)
$ 69
August 30, 2005
Child abuse check by Dept. of Children & Families ($6) + ($1 m.o.)
Sent forms and money order to Lori via Fed Ex
$ 7
$ 12
August 31, 2005
Obtained County background check at the Hillsborough County Sheriff's Office for Doug, Marsha, and Margaret (3 x 0.15 = $0.45)
$ 0
September 2, 2005
Ordered 4 marriage certificates from Vital Chek ($15+$12copy+$5 s&h)
$ 32
September 7, 2005
Completed multiple forms for Home Study and Dossier and had them notarized by Nancy at our church. (for Doug, Marsha, Margaret)
September 8, 2005
Sent Marsha's Employee Verification letter to Secretary of State of Connecticut for apostille since it was notarized in Hartford ($5)
$ 5
September 9, 2005
Doctor's appointment to fill out medical form for Doug, only co-pay.
$ 15
September 12, 2005
Doctor's appointment to fill out medical form for Marsha, only co-pay.
$ 15
September 17, 2005
Received from State of Connecticut apostilled letter, reg. mail (9 days)
September 19, 2005
Doctor's appointment to sign forms in front of notary, only co-pay.
$ 15
September 19, 2005
Mailed 5 form items to Lori for the Home Study via Fed Ex
Life Summary Update, financial form, County Background Check, Affidavit of Good Moral Character, Physicals, (also Employee Verification & Post-Placement)
$ 13
September 28, 2005
Home Study approved (9/24) by Lori and sent to us (1 month elapsed)
September 28, 2005
Express Mailed Home Study & license & former I-171H approval letter to BCIS in Tampa for I-600A plus fee for updating doc
$ 195
$ 14
October 10, 2005
Obtained Fingerprints at County Sheriff's Office (free); FedEx f.p. cards to FBI CJIS Division - Record Request with $36 money order
$ 20
$ 37
October 12, 2005
Sent 17 documents (notarized in FL) to be apostilled by Secretary of State [16x$10 + 1x$20] via the Miami Regional Office, via courier service by Stratos Vranas [$50]. Docs sent via FedEx to Stratos.
$ 50
$ 17
October 13, 2005
Secretary of State of FL apostilled 17 documents at Miami office.
Courier service by Stratos Vranas sent docs to be via FedEx (21.35)
$ 180
$ 21
October 18, 2005
Photo-copied FL apostilles (17 x 4) and color-copied family photos
$ 30
October 25, 2005
Received 2 approved FBI fingerprint documents via FedEx (20.42)
$ 20
October 25, 2005
Photo-copied FBI Fingerprint docs (received today) at Kinkos (1.63)
$ 2
October 25, 2005
Secretary of State of WV to apostille 2 FBI fingerprint documents.
Sent docs via FedEx (18.42)
$ 15
$ 18
October 31, 2005
Received apostille from W.V. for 2 FBI f.p. docs via FedEx (12.86)
$ 13
November 7, 2005
Doctor's appointment to sign forms in front of notary, only co-pay.
$ 15
November 7, 2005
Ordered 4 vital certificates from Vital Chek ($15x2+$8copy+$19.50 s&h)
$ 58
November 13, 2005
Photo-copied FL notaries/apostilles & pictures at Kinkos (7.50+1.72)
$ 9
November 14, 2005
Received 2 additional docs from Social Worker;
Photo-copied 8 notary documents x 4 copies (3.05)

$ 3
November 15, 2005
Apostilled the last 13 documents in Tallahassee [13x$10];
Marsha traveled with Sigrid to Tallahassee and hand-delivered the docs since the Miami office is closed due to lack of funding.
$ 130
$ 28

November 15, 2005
Made 4 photo-copies of each of the 13 apostilles, then collated all documents for the dossier along with 3 copies of the original and sent them to Adoption Ark, Inc. via FedEx along with 4 checks:
* Adoption Ark - for 2nd installment
* Adoption Ark - for Post Placement deposit
* Visa Obtainers Inc. - for Embassy/consulate fee
* Visa Obtainers Inc. - for Expedite fee
$ 4

$ 49
$#%**
$ %**
$ 555
$ 345

November 29, 2005
Dossier was fully translated into the Russian language by AA.
December 6, 2005
AA "Certificate of Approval" and license were apostilled and added to the completed dossier, which was hole-punched and bundled. AA sent dossier to Kazakhstan Embassy in D.C. via FedEx
December 8, 2005
Kazakhstan Embassy in Washington D.C. received our dossier
January 5, 2006
Kazakhstan Embassy in D.C. approved our dossier and sent it to Kazakhstan to be reviewed by two Ministries and the region
January 18, 2006
Apostilled updated Certificate of License for Adoption Support Services of Florida in Tallahassee. (1/10 - 1/23 via regular mail)
$ 10
January 23, 2006
Received sad news from Alla (at Adoption Ark) that our children in Kazakhstan (Vita & Russ) are no longer adoptable since their mother has been recently visiting them in the orphanage.
We cannot direct the wind, but we can adjust our sails!
January 24, 2006
Fingerprints retaken for adults for I-600A Application for Advance Processing of Orphan Petition to extend the I-171H deadline
February 4, 2006
New Power of Attorney form sent via FedEx ($19.70) to courier Capital Connection in Tallahassee to be apostilled ($20 + $15 rush) at Secretary of State office ($10).
$ 20
$ 35
$ 10
February 7, 2006
Sent apostille to Adoption Ark in CA via Fedex ($23.67)
$ 23
February 10, 2006
Received new I-171H with fingerprint expiration date of 4/24/07.
I-600A was completed on 2/15/05; With the FP, the exp is 8/15/06,
meaning the adoption can be (and must be) complete by 8/15/06.
March 6, 2006
3 notarized documents sent via Express Mail ($14.40) to Secretary of State of FL to be apostilled with return E. M. envelope ($14.40)
$ 28
March 7, 2006
Apostilled 3 documents in Tallahassee, FL (3 x $10)
$ 30
March 15, 2006
Received 3 apostilled documents from Secretary of State of FL;
Notified that dossier was approved by Ministry of Foreign Affairs!
March 22, 2006
Dossier was approved by Ministry of Education and Science!
This means we are officially approved by Kazakhstan to adopt!
April 10, 2006
Received notification from Adoption Ark that we will soon receive a Letter of Invitation from the Region to travel to Kazakhstan in May.
April 19, 2006
4 notarized documents sent via FedEx Ground ($5.67) to Secretary of State of FL to be apostilled and returned with FedEx label.
Sent post-placement agreement to Adoption Ark via FedEx Ground
$ 6

$ 6

April 20, 2006
Apostilled 4 documents in Tallahassee, FL (3 x $10 + 1 x $20)
$ 50
April 27, 2006
Received our Letter Of Invitation to travel to Kazakhstan from the city/region of Kostanay. We are requested to be there on May 10.
April 28, 2006
Received via FedEx Ground ($6) our 4 apostilled documents.
$ 6
April 28, 2006
Obtained 2 money orders payable to Embassy of Kazakhstan for our visas (2 x $125 + $2 m.o. fee), Sent applications via Express Mail to D.C. with a return self-paid Express Mail envelope ($14.40 x 2)
$ 252
$ 14
$ 14
April 30, 2006
Purchased changeable roundtrip tickets to Almaty, Kazakhstan on Northwest Airlines & KLM (tentatively May 6th - June 1st)
$2327
$2327
May 2, 2006
Obtained 2 more money orders payable to Embassy of Kazakhstan for our visas - for double entry and rush service
(2 x $30 for double entry + 2 x $90 for rush service + $2 m.o. fee),
Sent m.o. with travel itinerary via Express Mail to D.C. ($14.40)
$ 60
$ 180
$ 2
$ 14
May 3, 2006
Country Assignment fee--3rd U.S. installment for Adoption Ark, Inc.
(refund of $%** given on 6/21 for adopting 1 instead of 2 children)
$#***
May 4, 2006
Received our Passports with double-entry Visas for Kazakhstan
May 5, 2006
Received global phone (via Verizon affiliated Global Rental 1-800-711-8300)
Received cash in $100 bills
May 6, 2006
Fly from Tampa, Florida to Almaty, Kazakhstan
May 8, 2006
Stopover in Amsterdam Hilton, Holland & breakfast 350.72 EUR
$ 458
May 9, 2006
Plane tickets from Almaty to Kostanay, Kazakhstan; $199 x 2
Fee for extra baggage (only 40 pounds per person allowed free)
Fee for Almaty coordinator
$ 398
$ 66
$ $**
May 14, 2006
Regional fee for adoption
$(***
June 8, 2006
Global phone from World Roam, 30 days & use = $840
June 10, 2006
Kazakhstan Ministry Foreign Affairs registration of child
Meals for 33 days (May 9 - June 10), about $21/day, (81,230 total)
$ 65
$ 676
June 11, 2006
Rent for Apartment (May 9 - June 11); 33 days x $50/day
Plane tickets from Kostanay to Almaty, Kazakhstan; $208 x 2
Fee for extra baggage (only 40 pounds per person allowed free)
Meals in Almaty (4,202 tenge / 120 = $35)
$1650
$ 416
$ 55
$ 35
June 12, 2006
Hotel in Almaty (10,900 tenge / 120 = $90)
$ 91
June 24, 2006
Purchased changeable roundtrip ticket to Almaty, Kazakhstan on Northwest Airlines & KLM (for July 12 - 19); Doug - adoption fare (class Y); Dimitri - one way adoption fare (class Y);Marsha's cancelled

$3149
$1062
June 26, 2006
Obtained money order payable to Embassy of Kazakhstan for Doug's visa ($125 + $1 m.o. fee), Sent applications via Express Mail to D.C. with a return self-paid Express Mail envelope ($14.40 x 2)
$ 126
$ 14
$ 14
July 12, 2006
Flew to Detroit then to Amsterdam
July 13, 2006
Spent day at Hilton Amsterdam Airport Schiphol hotel; ($238.67)
Flew to Almaty, Kazakhstan
$ 239

July 14, 2006
Flew from Almaty to Kostanay; Picked up Dimitri in Rudny;
Country assignment fee for help in Almaty
Country assignment fee for help in Kostanay
$ 208
$ !**
$ !**
July 16, 2006
Stayed 2 nights at Medeo Hotel in Kostanay, Kazakhstan;
Meals at Medeo $41.27;
Flew from Kostanay to Almaty with Dimitri (adult + 1/2 price for child)
$ 251
$ 41
$ 320
July 17, 2006
Physical exam for Dimitri with American doctor in Almaty
$ 105
July 18, 2006
Interview with American Embassy for Immigration Visa for Dimitri
$ 380
July 19, 2006
Stayed 3 nights at Kazzhol Hotel in Almaty;
Meals at Kazzhol Hotel;
Flew together: from Almaty to Amsterdam to Memphis to Tampa
$ 226
$ 165

Total for adoption of Dimitri:
$42,775
How to pay for expenses?!!

Verizon

Doug's company - reimburses expenses up to $10,000 per child

$10,000
IRS - Government

IRS - Government - reimburses expenses up to $10,960 per child

$10,960

Total adoption expenses eligible for reimbursement for 1 child

$20,960

In order to take advantage of the tax benefits and company contributions, an international adoption must have been completed (unlike a domestic adoption where expenses may be reimbursed without having the adoption finalized).
Tax Benefits for Adoptions are explained in IRS document Publication 968. Three notes of explanation to the figures given above:
The maximum limit that the IRS will reimburse (per child) often changes each tax year. For 2005, the maximum amount is $10,630. This is also the maximum amount that may be contributed by companies (per child) without being taxed on the money as income.

Companies (e.g. Verizon and Casual Corner) are free to contribute as much money as they like toward the adoption expenses, but any contributions over $10,630 per child will be taxed by the IRS. Thus, if Verizon and Casual Corner give $12,000 towards expenses, then ($12,000 - $10,630 = $1,370) $1,370 will be taxed by the IRS as income. Most companies are not as generous as Verizon for adoptions, thus the charitable $10,630 tax-free limit will not be reached for most couples. Check with your company for their adoption expense policy.

The IRS will reimburse expenses by reducing your taxes for the year in which the adoption is finalized (for international adoptions). If your tax for that year (based on gross income minus deductions) is less than the adoptions expenses to be covered by the Government, then only the tax amount is given to the tax payer. The remaining expenses (owed by the IRS) can be reimbursed in the following year(s), based on the tax owed. For example, suppose after the companies contribute, there are $10,000 in further expenses that are allocated for the IRS to reimburse: If my taxes amount to $8,000 for that year (based on taxable income), then my taxes will be reduced by $8,000 and the other $2,000 ($10,000 - $8,000) will be reimbursed a year later on the next year's income tax.
For additional clarification, see the following site that further explains Tax Credits for Adoptions!
Listen to Patriotic "America" songs in midi format including "Coming to America"
Upon entering USA., Dimitri will become a U.S. citizen according to the Child Citizenship Act of 2000
Post Adoption Items

July 19, 2006

Obtained stamp in Kazakhstan passport for admittance as an IR-3 immigrant from Dept. of Homeland Security upon entrance in U.S.; Used to obtain Social Security #

July 3, 2006

Add child to Health Insurance and Dental Insurance (retroactive to June 28, 2006 -- date of Certificate of Adoption); Adoption became FINAL on 6/9/06.

July 20-?, 2006

Have family meeting to establish household rules in order to establish a feeling of security (he is accustomed to rules and schedules)

July 21, 2006
Apply for reimbursement from company (Verizon), $10,000 per child
July 21, 2006
Apply for Social Security Number (form SS-5) using I-94 or I-551
Official help at this site.
July 20-?, 2006
Take swimming lessons (or simply learn to swim) [doing the latter]
July 25, 2006
Have physical exam with Doctor for school enrollment requirements
July 25, 2006
Enroll in elementary school (first day is Aug. 3rd)
August 1, 2006
Have dental exam with children's Dentist
August 13, 2006
Obtain Social Security Card (number) in mail (and provide to school)
August 19, 2006
Obtain Certificate of Citizenship automatically within 45 days of entry in U.S. for newly entering IR-3 children; for others use N-600 application and apply at USCIS sub office for $215. If the Certificate of Citizenship (N-560) gets lost, file Form N-565 to obtain Replacement of Citizenship document.
August 24, 2006
Obtain $10,000 from Verizon for reimbursement of expenses.
Actually, FICA taxes were taken out (6.0% Social Security; 1.65% Medicare)
Sept. 13, 2006
Apply for U.S. Passport (form DS11) using Certificate of Citizenship
$ 82
Oct. 27, 2006
Receive U.S. Passport with returned documents (Citizenship; Adoption)
Feb. 22, 2007
Obtain Tax Credit for Adoption on IRS taxes when filing for 2006.
Received $10,734 of the full $10,960 credit; $226 given next year
Feb. 26, 2007
Obtain Florida Identification Card (using passport & ssn)
$ 3
Feb. 27, 2007

April 27, 2007
To place Adoption on file in Florida and Obtain U.S. birth-certificate
- Submit paper work to Legal-Eaze to produce documents for court;
- Arrange date for Post-Placement Social Worker visit to home;
- Submit notarized paper work to Hillsborough County court;
- Appear in court (parents with Dimitri) for re-adoption in Florida.

$ 500

$ 293



April 9, 2007
April 27, 2007

Complete yearly Post-Placement report in accordance with Kazakhstan Law (based on our adoption court date of 6/9/2006);
Report due to AA one month prior to yearly court date anniversary.
Post-Placement Report # 1
Apostille two original Post-Placement Reports with FL for Kaz.



$ 250
$ 20
Aug. 22, 2007
Appear in court (parents with Dimitri) for re-adoption in Florida;
Obtained 5 copies of Final Judgment Confirming Foreign Adoption;
Filed Certified Statement of Final Decree of Adoption to Vital Statistics for U.S. Birth Certificate.

$ 18
$ 20

Sept. 1, 2007
Received Certificate of Foreign Birth for Dimitri from Vital Statistics!!
Original birth certificates for adopted persons: contact the DOH Adoption Unit at (904) 359-6900, extension 9001 for instructions.
Kazakhstan is located south of Russia and west of China. Russian is its chief language and Kazakh, similar to Turkish, is second. Many people also speak English or Chinese. Citizens are comprised of Kazakh, Russian, Chinese, Mongolian, Turkish, German, Armenian and Korean ancestry. Kazakhstan is the ninth largest country in the world by area, but it only has a population of 17 million due to its vast deserts. It declared independence from the Soviet Union in 1991.


Kazakhstan's largest city is Almaty with 1.2 million people, and its capital is Astana.
Kazakhstan has 14 provinces, including Kostanay that lies in the north central part of the country and its capital is the city of Kostonay (same name as the region).
We flew to the city/region of Kostanay after landing in Almaty on May 9, 2006.
Kostanay can be spelt as Kostanai or Qostanay.
Kostanay has a population of 220,000 and lies just south of the central Russian border.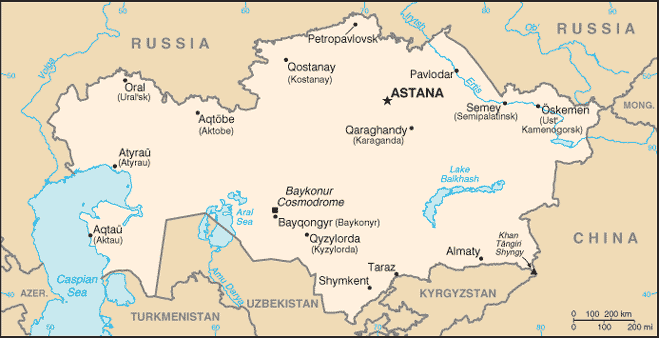 ---
Families for Russian and Ukrainian Adoption
Adoption Ark, Inc.
Precious in His Sight (photolisting for adoptions)
Adoption Support Services of Florida (Home Study with Lori)
Kazakhstan Embassy in US and Consular Services
US Embassy in Kazakhstan
U.S. Dept. of State - Bureau of Consular Affiars
U.S. Dept. of State - Travel/Adoption - Kazakhstan
USCIS (formerly INS)
Vital Statistics (order certificates)
Birth Certificate Eligibility and Ordering Info
Tax Credits for Adoptions (Info)
Department of State of Florida (click notaries and apostilles)
Go To Russia Travel Agency and visa service
Travisa (for Kaz)
Travel Documents Systems (for Kaz)
Tourist Visa
SnowGrains testimony
Domesticating Foreign Adoption
More Kazakhstan links
Kazakhstan video
Learn the Russian alphabet
Kazakhstan News

Verizon affiliated Global Rental of phones 1-800-711-8300, (order 3-4 days before departure)
Rent $3.99/day, calls $2.49/min. in Kazakhstan, $22 shipping, $300 deposit (GSM is $5.50/min.)

Scriptures about adopted children of God and the fatherless
Ps. 68:5-6; Deut. 10; Eph. 1:5; Hos.14:3