Our decision to adopt
After years of marriage without a child of our own, we have decided to adopt a child or two to be a part of our family. Deciding between a domestic adoption and an international adoption was not easy at first.
In a domestic adoption, you are matched with a birth mother and are with her through the whole process, and she can change her mind at any point and not proceed with the adoption (about 20% do change their mind from what I've heard). There is no definite time when you will be a parent since you are waiting for a birth mother to choose you and that could take time. On the plus side, you do get an infant. To obtain a child two to four years of age is harder, unless it is a "special needs" child. There is also a foster-care to adoption program, but it could be heart breaking if you become attached to the child and he/she becomes ineligible for adoption. Also, most domestic programs are "open adoptions" to some degree, which can be an uncomfortable situation. There are custody issues in domestic adoptions that don't exist with international adoptions.

In an international adoption, there is no waiting to be chosen by a birth mother, nor any involvement with a birth mother. There is a requirement to travel to the country of the child. Newborn infants are not available, and younger children are harder to find. Because of life in an orphanage, children are often underdeveloped or unhealthy in some respects. According to Bureau of Consular Affairs, "With the reduction in children available for adoption in the United States, more and more U.S. citizens have adopted children from other countries."
Considering our international experiences and our desire to be loving parents without the risk of someone changing their mind about giving a child up for adoption, we decided to pursue an international adoption. Next, we needed to decide on a country. We would prefer to have a child that looks somewhat like us and blend in with our family and not stand out as "adopted" (also, less questions are asked by others). With that in mind, Ukraine and Russia were possibilities, where most of the children are Caucasian. Having come in contact with a Ukrainian missionary while in New York in August of 2003, I (Doug) inquired about the adoption program that he shared about. One year later, I received the information about Father's House, International (in Ohio), almost at the same time that the Lord renewed an interest in Marsha and I for international adoption. In October of 2004, I came in contact with Ukrainian Evangelist Dr. Slavik Radchuk (a friend of Evangelist Reinhard Bonnke) who offered to help me with an adoption from Ukraine and gave me contacts with a Father's House in Kiev, Ukraine that he had helped to support. It seemed to us that God was leading us to Ukraine. Some other advantages of choosing Ukraine:
Less expensive
You get to select your children, after seeing them at the orphanage
You are allowed (and often able) to do it independently without going through an agency
We admire the determination of the Ukrainian people in their pursuit of Democracy and true freedom. The country seems to have much potential, and we can be proud to have a child from Ukraine.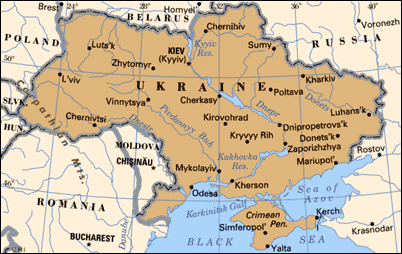 Next, we needed to decide if we would do it independently or go through an agency. Agencies charge extra money for their services and for their translators, but they have a good reputation with the country and are experts in international adoption. Adopting in Ukraine is less complex than adopting in Russia. Additionally, Ukraine allows you to work independently (without intervention from an official agency) in the adoption process, thus saving thousands of dollars. There are risks involved in adopting internationally and independently. One of the greatest issues in Ukraine is that the children are usually unhealthy in some way, and trying to find a young healthy child is not easy. Yet, with the Lord's guidance and with good medical help in the USA, many children overcome. Malnutrition is widespread among children put up for adoption in Ukraine, yet a good diet in America can help them. A generous amount of love from a caring family can help a child to grow emotionally as well.
Time Line for Adoption
Date
Description
Cost
October 8, 2004
Received inspiration/confirmation to adopt from Ukraine
Free
November 10, 2004
Began Home Study process, signed form and mailed check to Lori, social worker and president of Adoption Support Services of Florida
$1350
November 27, 2004
Ordered Birth Certificate (for Doug in NY) from Vital Chek ($45+$12)
$ 57
November 30, 2004
Passport renewal for Marsha ($55) + photos ($11) + mailing ($6)
$ 72
November 30, 2004
Interview at home by Lori for Home Study; turned in 10 form items:
Birth certificates, marriage certificate, div. dec., insurance card, recent 1040 forms, floor plan of house, color family photo, client information form, life summary (Margaret), and supplemental Home Study questionnaire (Margaret)
December 3, 2004
Background check by Florida Dept. of Law Enforcement (3x$23)
$ 69
December 3, 2004
Child abuse check by Dept. of Children & Families ($6) + ($1 m.o.)
$ 7
December 9, 2004
I-600A Application for Advance Processing of Orphan Petition
Fingerprints for I-600A for adults in household (3 x $70)
$ 525
$ 210
December 15, 2004
Ordered DS-1350 Cert. of Rpt of Birth (Marsha) from Dept. of State
$ 30
December 17, 2004
Received letter giving fingerprint appointment from BCIS
December 24, 2004
Mailed 5 form items to Lori for the Home Study; ($1.06):
personal reference letters, employment verification letters, financial form, guardianship statement, life summary (Marsha), supplemental Home Study questionnaire (Doug & Marsha)
$ 1
December 28, 2004
Doctor's appointment to fill out medical form; blood test on 12/22,
Doug ($125) + Marsha ($125); insurance covered $230 on 3/7/05.
$ 15
$ 15
December 28, 2004
Photos taken for Visa for Doug, for Marsha on 11/28 ($10.65 x 2)
$ 22
December 28, 2004
Purchased 2 tourist airplane tickets to Kiev for 2/25-3/01 ($667 x 2)
December 29, 2004
Mailed last 2 items to Lori for the Home Study; (regular mail $0.83)
Life summary (Doug), Physician forms
$ 1
December 30, 2004
Received Marsha's passport renewal back from U.S. Gov. (30 days)
January 3, 2005
Express Mailed 2 applications for Visas to Ukraine Embassy,
along with 2 passports, 2 money orders (2 x $100), and self-addressed paid Express Mail envelope ($13.65 x 2) for short tourist trip to Kiev at the end of February.
January 5, 2005
Fingerprints taken by BCIS for Doug, Marsha, & Margaret for I-600A
January 6, 2005
Ordered 2 marriage certificates from Vital Chek ($10+$4 copy + $10 s&h)
$ 24
January 7, 2005
Signed & sent contract and initial check for Ukrainian Angels, Inc. to assist with int'l adoption in Ukraine. Cathy Harris has already been helpful to us and has helped 835+ families (1998-2004).
Note: We will probably use the translator/facilitator from Father's House in Ukraine
$ 500
January 7, 2005
Sent Marsha's Employee Verification letter to Secretary of State of Connecticut for apostille since it was notarized in Hartford ($5)
$ 5
January 8, 2005
Home Study approved by Lori and returned to us (8 weeks elapsed)
January 10, 2005
Express Mailed Home Study & license to BCIS in Tampa for I-600A
$ 14
January 14, 2005
Received from State of Connecticut apostilled letter, reg. mail (7 days)
January 15, 2005
Received from Ukraine Embassy 2 passports/visas, Exp. mail (12 days)
January 19, 2005

Faxed dossier documents to Cathy Harris to check for any mistakes or problems. (Home Study, Social worker's license, copy of 2 passports on 1 page, STATE Police Clearance letters for both Marsha and I, employment verifications for both parents, medical certificates and two notarized photocopies of doctor's license, TWO marriage certificates)

$ 1
January 20, 2005

Cathy said "the dossier is good."
Since the Social Worker license will expire on 3-31-05, Lori will need to send us her renewed license, then we get it re-apostilled and send it to Ukraine ASAP.

February 9, 2005

Completed documents: Petition to Adopt, Letter of Obligation, and Power of Attorney, all of which were notarized by Nancy Kellerman

February 17, 2005

Received approval from Homeland Security via I-171H form!!

February 18, 2005

Sent 16 documents (notarized in FL) to be apostilled by Secretary of State [14x$10 + 2x$20] via the Miami Regional Office, via courier service by

Stratos Vranas

[$50]. Docs sent via FedEx to Stratos.

$ 180
$ 50
$ 17
February 24, 2005

Received 16 apostilled documents (notarized in FL) via Fedex.

$ 24
February 24 - March 2, 2005

Trip to Kiev, Ukraine to get acquainted with the country, culture, and people of the land of our future children. We hand-delivered dossier to translator in Ukraine to translate the documents and give to NAC.

February 28, 2005

Chose Valentina and Alla as our facilitator and translator and hand-delivered the dossier to them. Paid initial fee for translation and had power-of-attorney form written and notarized there for Valentina.


$ 400
$ 38
March 1, 2005

Passports stolen in route from Kiev to Frankfurt. Obtained new passports (valid for 1 year) at U.S. Consulate in Frankfurt.

$ 170
$ 38
March 4, 2005

Applied for new permanent passports (valid for 10 years) for Doug & Marsha. Pictures taken ($21) and Fedex to New Hampshire $32.40 and expedited process to 3 days ($60 - Doug, $60 - Marsha)

$ 21
$ 32
$ 120
March 11, 2005

Received both passports via Express mail $13.65 x 2.

$ 27
March 17, 2005
Our dossier documents have been translated and notarized. The experts have told us that we will not need to redo those documents containing our old passport numbers until just prior to going to Kiev.
April 12, 2005
Our dossier was received and registered by the National Adoption Center (NAC) in Kiev, Ukraine.
April 18, 2005
Paid Yuliya Kosachevska (our translator in U.S.) who mediates between us and our translator/facilitator in Ukraine (total thus far $1000)
$ 600
April 21, 2005
Sent 2nd check (of $500, total = $1,000) to Cathy Harris of Ukrainian Angels, Inc. to assist with int'l adoption in Ukraine.
$ 500
May 18, 2005
Received approval letter from NAC in Ukraine!!! (approval on 4/28/05)
May 20, 2005
Sent "request for appointment" letter via FedEx ($82.79) to Valentina for translation and delivery to NAC.
$ 83
May 28, 2005
Translated "request for appointment" letter was submitted to NAC.
July 22, 2005
Received letter from NAC stating that an invitation letter will be sent to us in December or January for an appointment in 2006 since all appointments in 2005 are taken. Disappointing.
August 29, 2005
Switched to adopting from Kazakhstan after find 2 adorable children
Total thus far:
$5229

Steps to complete prior to traveling to Ukraine (for about 4 weeks in early 2006) to select child(ren):
Receive appointment date from NAC to travel and visit Kiev to see child referral(s).
Purchase flexible airline tickets to travel to Kiev, Ukraine via Travel-On
Update any documents that may have expired.
Apostille several notarized documents that need to be updated prior to meeting with NAC.
Apply for double-entry Visa into Ukraine for Doug & Marsha.
How to pay for expenses?!!

Verizon

Doug's company - reimburses expenses up to $10,000 per child

$10,000
Casual Corner

Marsha's company - reimburses expenses up to $2,000 per child

$ 2,000
IRS - Government

IRS - Government - reimburses expenses up to $10,390 per child

$10,390

Total adoption expenses eligible for reimbursement per child

$22,400

In order to take advantage of the tax benefits and company contributions, an international adoption must have been completed (unlike a domestic adoption where expenses may be reimbursed without having the adoption finalized).
Tax Benefits for Adoptions are explained in IRS document Publication 968. Three notes of explanation to the figures given above:
The maximum limit that the IRS will reimburse (per child) often changes each tax year. For 2004, the maximum amount is $10,390. This is also the maximum amount that may be contributed by companies (per child) without being taxed on the money as income.

Companies (e.g. Verizon and Casual Corner) are free to contribute as much money as they like toward the adoption expenses, but any contributions over $10,390 per child will be taxed by the IRS. Thus, if Verizon and Casual Corner give $12,000 towards expenses, then ($12,000 - $10,390 = $1,610) $1,610 will be taxed by the IRS as income. Most companies are not as generous as Verizon for adoptions, thus the charitable $10,390 tax-free limit will not be reached for most couples. Check with your company for their adoption expense policy.

The IRS will reimburse expenses by reducing your taxes for the year in which the adoption is finalized (for international adoptions). If your tax for that year (based on gross income minus deductions) is less than the adoptions expenses to be covered by the Government, then only the tax amount is given to the tax payer. The remaining expenses (owed by the IRS) can be reimbursed in the following year(s), based on the tax owed. For example, suppose after the companies contribute, there are $10,000 in further expenses that are allocated for the IRS to reimburse: If my taxes amount to $8,000 for that year (based on taxable income), then my taxes will be reduced by $8,000 and the other $2,000 ($10,000 - $8,000) will be reimbursed a year later on the next year's income tax.
For additional clarification, see the following site that further explains Tax Credits for Adoptions!
Relevant Links
Father's House International - Ukraine Adoption
Ukraine adoption
Independent Ukraine Adoption
Ukrainian Angels (Cathy Harris, helped 835+ families from 1998-2004)
Adoption Support Services of Florida (Home Study with Lori)
Travel-On (70% off for adoptions on Lufthansa, 877-657-4772, 8:30-5:30 EST)
Faithful Adoptions (good background on Ukraine, language phrases)
Families for Russian and Ukrainian Adoption
Travisa to Ukraine
Ukraine Travel info
General Information About Ukraine
America World Adoption - Ukraine
Travel Documents Systems
Ukraine Embassy in US (Great Info)
US Embassy in Ukraine (Excellent)
U.S. Dept. of State - Bureau of Consular Affiars
U.S. Dept. of State - Ukraine Adoption
Doyle Authentications - Courier Service for US Dept. of State
INS now USCIS
Vital Statistics (order certificates)
Tax Credits for Adoptions (Info)
Tourist Visa for Ukraine
Ukraine-Visa
Department of State of Florida (click notaries and apostilles)
Certified-adoption-docs (apostilles)
Ukraine International Airlines 1-800-876-0114
Viktor Yushchenko (president of Ukraine 2005-2010)
Buy things that are Ukrainian
Verizon affiliated Global Rental of phones 1-800-711-8300, (order 3-4 days before departure)
Rent $2.99/day, calls $2.49/min. in Ukraine, $19 shipping, $300 deposit (GSM is $5.50/min.)

Scriptures about adopted children of God and the fatherless
Ps. 68:5-6; Deut. 10; Eph. 1:5; Hos.14:3
Last Updated on July 03, 2021