My Cute and Lovable Dog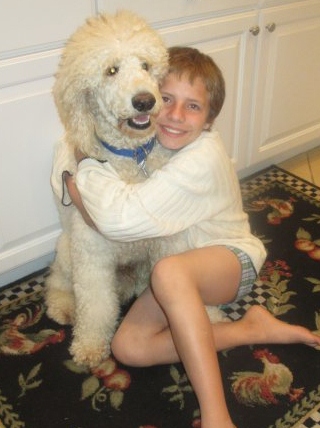 All About Napoleon
Napoleon was brought into my life on January 15th, 2012... the same day that my dad successfully rolled out an important web tool at his workplace at Verizon. (He was born on May 16, 2011). I named him Napoleon because I liked the character "Napoleon Dynamite" and would often dance to the music that the character did in the movie. Napoleon is a much bigger poodle than our other poodle, Peanut. My mom loves him so much, and he follows her around all the time.
Napoleon has had some problems. My dad tried to take him for his first run at the park but got so disgusted with Napoleon when he went to get the dog out of the back seat and he would not get out... because he was hiding his poop in the backseat. My dad immediately took the dog back to the house (without going for a run) and we cleaned up the messes (more than one) in the car. Even after extensive cleaning, my dad had to have the car steam cleaned by professionals to get rid of the smell. Further, the dog had problems going to the bathroom in our house constantly for several months. We had a professional trainer take him for 2 weeks to break him of it. It helped a little. After 9 months, he almost never goes to the bathroom in the house now. Although dad has taken him for some runs, recently the dog has been pooping as he runs on the sidewalk with dad, which embarrasses him. As a result, I then have to go back to that place and clean up the mess. Dad has vowed not to run with him again (having given him 2 more chances already).

My Other Dog's Life (by Isaac)




Peanut

has a wonderful life, living in a family that loves him. My mom, Doug, and grandmother all enjoy petting him. Peanut is allowed to sleep with me in the bed at night (and he enjoys it!). My mom primarily takes care of him by feeding him and used to take him out regularly to do his necessities (before we got a doggy-door to a fenced in area). He loves to bark at other dogs, especially those that weigh about 10 times what he does. He is brave, but obviously not bright!

My Dog's Funniest Antics




Peanut likes to play with his toys, especially his bird-in-the-egg toy that makes a chirping sound when squeezed. One day, a small frog jumped into our living room and Peanut followed him with his nose. Soon, Peanut was licking the frog and eventually put it in his mouth and roamed around the house with it to play with it. Peanut jumped on the couch and plopped the frog next to my grandmother. Boy did she jump! Peanut thought that this real frog was simply another toy to play with and he struggled when we attempted to take the frog from him.

My Dog's Baths
Peanut does not particularly like to get a bath, but he does like all the rubbing that goes with getting cleaned and dried. At our new home, we have a really neat bath tub just for the dog!

Immediately prior to our belated Christmas gift exchange that took place on January 3, 2004 (due to multiple hospital visits during the Christmas holidays), Doug started the bath process for our dirty dog. Marsha completed the process and he became a favorite attraction for all the family members.
| | |
| --- | --- |
| Doug started Peanut's bath water, but he eventually realized that it was too hot for Peanut! | Marsha came to the rescue and finished up the job. |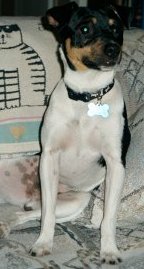 Chauncey was our first dog together, but he did not last long, having a mean streak to him and chewing corners of Doug's bookcases.

My Favorite Dog Links
Bocker's Doodleland
: When I grow up, I want to be a Labradoodle like Bocker, and have my own song too!!!