Isaac's Baseball Page (My fan club cheered me on at my first baseball game)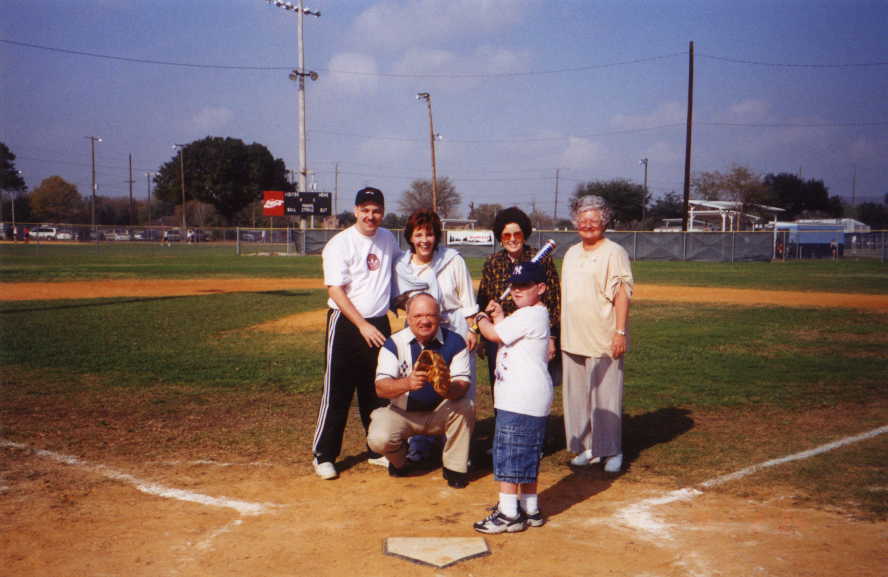 My Favorite Team
The
New York Yankees
are my favorite team in the American League. I like them because they won the World Series in 2000, but I also liked them before then. I am so excited that they won the World Series that I feel like
skipping
. My favorite player is Derek Jeter, who is a fantastic shortstop. I wish I could hit homeruns like Jeter one day.

About my special baseball league
My mom asked my teacher if she knew of a baseball league that I could play on, considering my handicap situation. The wife of the coach called my mom and told her of the league that they have for children with disabilities. In fact, her son is blind and he hits inside-the-park homeruns sometimes. I was so excited every day as I waited for our first game, which we played on February 24, 2001.
This league is great! Everyone on the team gets to bat during an inning regardless of whether there are three outs or not. The coach is the pitcher and he will continue to pitch the ball nicely until you get a hit. Therefore, there are no strikeouts, but you can get out if the other team throws the ball to the base before you get there or if they tag you with the ball when you are not on the base. After everyone in the dugout has been to bat, then the other team in the field gets to bat.


Pictures of my First Game




My dream came true! I played in a real baseball game! There were several high school kids who paired up with us as our buddies. Before the game, I was warming up with my buddy. I was the third person to bat and I hit a single! I then advanced to second base, and then to third base, and then I made it home! Our first game was played without uniforms, but we received uniforms for our second game.







It was a thrill to run home.
We had a good team.

Audio controls


When I was in the field I played second base. My buddy stood beside me and we talked about baseball as we waited for the ball to come our way.

At the end of the game, each team walks across the field and congratulates the players on the other team. I think that we won the game (even though no one kept score).

Onward to Isaac's Championship Baseball Page Back to Isaac's Home Page
Return to Doug's & Marsha's Home Page