My first complete golf game:

Although I have hit golf balls at a golf range once and played a few shots on a golf course in Alabama, I completed my first round of golf on April 14, 2004. Doug found a perfect golf course for me to play: The Lutz Executive Golf Center. It has only 9 holes, each being a short par 3. It is located less than 15 minutes away from our home. It was a thrill to be able to tee off and then eventually putt the same ball in the hole! We both had a great time! It was really fun! REALLY FUN!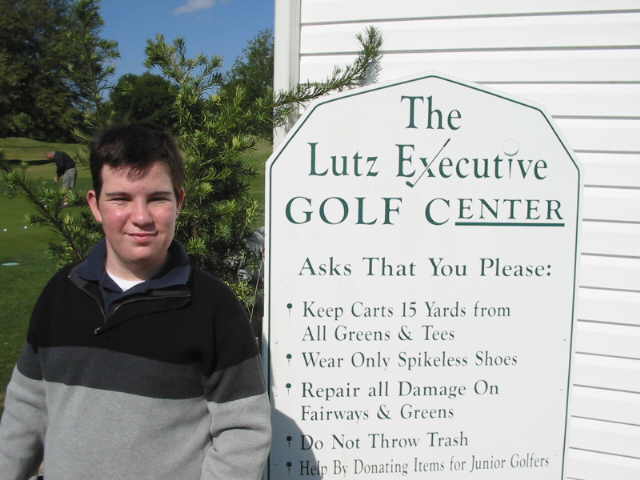 The Lutz Executive Golf Center is only $10 for the first 9 holes and $4 extra for each round after that. For a junior aged 12 and under (which I was on that day), the cost is only $7 for the first 9 holes and $3 extra for each round after that. What a deal! The only catch is that you have to carry or pull your own clubs. There are no automatic golf carts! Actually, I did not mind the walking since it wasn't far to the holes from the tees. It was good exercise and I was having fun! Doug had his own pull cart and we rented mine for $2. Pulling the clubs is much easier than carrying them!
| | | |
| --- | --- | --- |
| | | |
| Here I am, pictured on the green of the first hole after I completed my first hole. Doug was very encouraging every time that I hit a good shot. I scored a 6 on this hole, which was the shortest hole on the course for those playing from the Purple Tees, like me. It was only 56 yards long. | | My dad in Alabama gave me these beautiful golf clubs and irons as an early 13th birthday gift. The Driver is huge! Doug also thinks that these clubs are very nice. On the driving range, I hit the irons better, but I hit the woods better on this day. I hit this ball in the fairway on my tee shot. |
| | | |
| --- | --- | --- |
| | | |
| Every stroke, where I hit the ball, was counted, and I hit the ball almost every time I swung. I only lost one ball on the course (and that was Doug's that I borrowed for the occasion) and only twice did I accumulate a penalty stroke. | | Doug was very excited on the 3rd hole. I witnessed him get a birdie! His first shot landed a few feet off the back of the green. Using his pitching wedge, he chipped the ball into the hole while the flag was still in the hole. Amazing! |
| | | |
| --- | --- | --- |
| | | |
| It was a very windy day. Perhaps the wind affected my game? | | I accumulated many strokes from my putting, which I think needs improvement. |
| | | |
| --- | --- | --- |
| | | |
| Hole number 5 is called "The Marsh." Doug and I laughed and thought we should capture this in a picture to show my mom, Marsha! | | The Marsh is the hardest and longest hole on the course. Doug lost a ball in the grassy water and thus wound up with a 6 on this 164 yard hole. |
My mom would have loved seeing this crane walking around the golf course. We followed it from hole 4 to hole 5 to hole 6 as we played.

This was the perfect course for me and there was hardly anyone around on Wednesday from 2pm - 5pm when we played.

Doug says that I played really well and he had fun too! He said that my best shot was my drive on the 8th hole with my 5 wood where I hit it straight and it stopped a little past the green, 95 yards from the tee box! Ninety-five yards!

My overall score was a 65 and Doug's score was a 38 for the 9 holes. Not bad for my first time playing! Only once did I have anything higher than an 8 on a hole. Click on the small score card to read the scores for each hole:
The only problem that I have with my score is that it is something that you want to have on 18 holes. I think that Doug thought that I did better than I would do. He was pleased with my round. It took almost three hours to play the 9 hole course, but we enjoyed talking and strolling along. I enjoyed playing so much that I asked Doug if he would take me once a week and he said "Yes".
We played golf a week later and my score was a 68 and Doug's was a 33. My mom walked with us!
After another week, we played for the 3rd time and my score was a 63 and Doug's was a 37. We finished the course in only an hour and 30 minutes, walking the entire way.
On our 4th outing, my score was a 50 and Doug's was a 29. I played great and so did Doug.
On our 5th outing, my score was a 51 and Doug's was a 32. I played very good.
On our 6th outing, my score was a 52 and Doug's was a 32. I played pretty good.
On our 7th outing, my score was a 57 and Doug's was a 29. I played average.

See Isaac's second complete golf game, played a week later (along with the 3rd, 4th, 5th, 6th & 7th)
Return to Isaac's Home Page
Return to Doug & Marsha's Home Page
---
Page was last updated on July 03, 2021