Meet Cliff Woolley
Born: September 1, 1917
Birth Place: New York
Parents: Richard H. Woolley & May (Caroli) Woolley
Raised: New York City, New York
Children: none
Siblings: Stanley (known as Richard or Dick) and Dorothy
Nephews: Doug, Craig, and Brad Woolley; Rich Woolley;
Fred & Steven Garfinkel
Nieces: Donna Garfinkel Braccioforte; Linda Woolley Butera

Traveling from Tampa, Florida to North Haverhill, New Hampshire,
Doug Woolley (with his wife Marsha) visited his Uncle Cliff
on September 26, 2003

Marsha and Doug with Cliff (Doug's Uncle)
inside the lounge area of the Nursing Home



Doug & Cliff at Grafton County Nursing Home
North Haverhill, New Hampshire



Doug & Marsha took Uncle Cliff to McDonald's for ice-cream. Cliff wanted plain vanilla without any extra toppings or nuts. This was a rare occasion for Cliff to venture out of the Nursing Home. It was a treat for both Doug and Marsha to spend time with Doug's Uncle Cliff. Cliff was fun to be with and he enjoyed the company.



Cliff ate about a third of his ice-cream.
Doug ate about half of his ice-cream sundae,
and Marsha ate the rest as Doug stepped away. When Doug returned to see his delicious desert gone, Cliff commented sincerely to Doug, "Marsha thought she was helping you out!"


Cliff with one of the precious nurses/helpers.
The staff of nurses/helpers is impressive!
The Nursing Home facilities are kept very clean.
---
Traveling from Tampa, Florida to North Haverhill, New Hampshire,
Doug Woolley (with his wife Marsha) visited his Uncle Cliff
on June 3, 2004 and May 9, 2005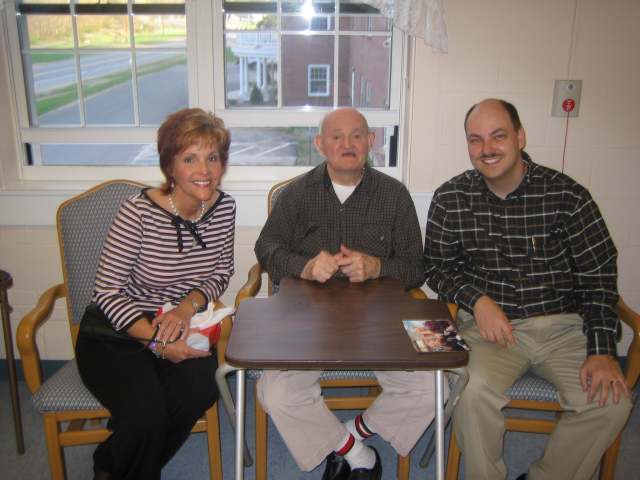 May 9, 2005 - Marsha & Doug with Uncle Cliff, presented two past pictures to Cliff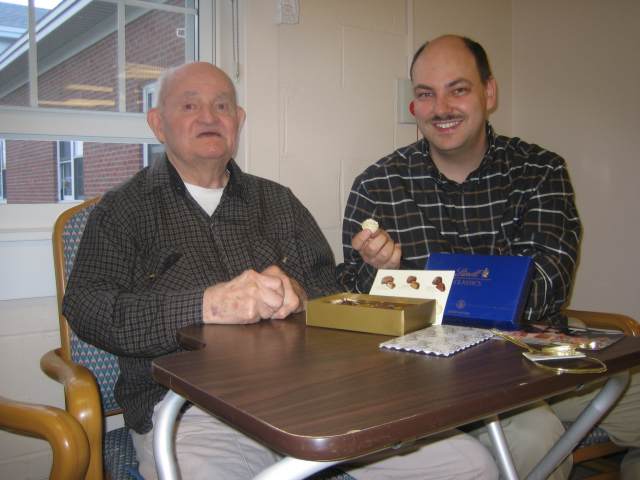 May 9, 2005 - Doug presents a box of chocolate to Uncle cliff (with Marsha's help)
---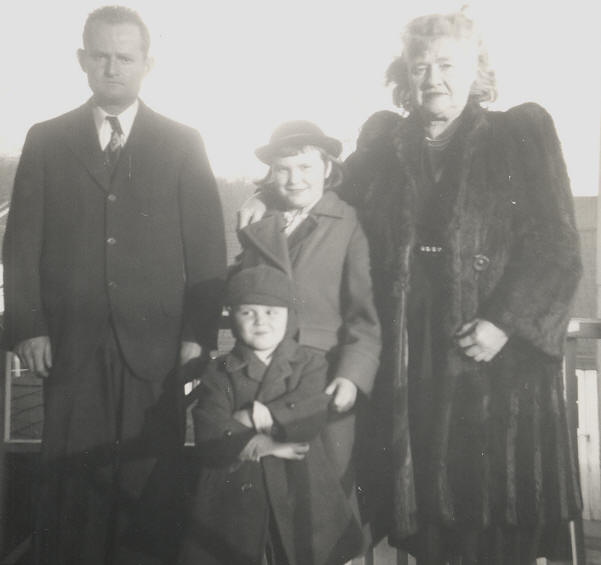 Cliff (left) with his mother May (far right), niece Linda, and nephew Rich in early 1950s.
Return to Doug & Marsha's Home Page